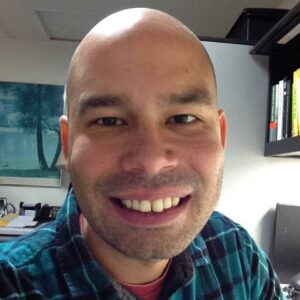 Hi folks! I'm an Associate Professor of Informatics and have affiliations with African American Studies and Media Studies at UC Irvine. I write about how Dungeons & Dragons, Magic: The Gathering, and board games inform the lived experiences of their players. Specifically, I'm interested in how these games further values of white privilege and hegemonic masculinity in geek culture. I am the Editor-in-Chief of the journal Analog Game Studies and the Multimedia editor of Sounding Out! I wrote two books: Repairing Play (MIT Press, 2023) and The Privilege of Play (NYU Press, 2023)!You can email me at trammell [at] uci [dot] edu.
Here is some of my selected writing…
The Rules for Race: Dungeons & Dragons in the Suburbs, Gamers with Glasses, 2021.
Torture, Play, and the Black Experience, G|A|M|E: The Italian Journal of Game Studies, 2021.
The Damsel and the Courtesan: Quantifying Consent in Early Dungeons & Dragons, International Journal of Role-Playing, 2020, with Nikki Crenshaw.
A Cultural Approach to Algorithmic Bias in Games, New Media and Society, 2020, with Amanda Cullen.
Analog Games and the Digital Economy, Analog Game Studies, 2019.
The Ludic Bestiary: Misogynist Tropes of Female Monstrosity in Dungeons & Dragons, Games and Culture, 2019, with Sarah Stang.
Militarism and Masculinity in Dungeons & Dragons, in Masculinity and Gaming: Mediated Masculinities in Play, edited by Nick Taylor and Gerald Vorhees, 2018.
Deodorizing the Geek Gamer, First Person Scholar, 2018.
The Pleasure (is) Principle: Sounding Out! and the Digitizing of Community, in Digital Sound Studies: A Provocation, edited by Mary Caton Lingold, Darren Mueller, and Whitney Anne Trettien, 2018, with Jennifer Stoever and Liana Silva.
Representation and Discrimination in Role-Playing Games, in Role-Playing Game Studies: Transmedia Foundations, edited by Sebastian Deterding and José Zagal, 2018.
Role-Playing Games as Subculture and Fandom, in Role-Playing Game Studies: Transmedia Foundations, edited by Sebastian Deterding and José Zagal, 2018, with Esther MacCallum-Stewart.
Cheating and Resisting Empire in the Age of Interactive Media, First Monday, 2017.
How Dungeons & Dragons Appropriated the Orient, Analog Game Studies, 2016.
Playing for Intimacy: Love, Lust, and Desire in the Pursuit of Embodied Design, in Rated M for Mature: Sex and Sexuality in Video Games, edited by Matthew Wysocki and Evan Lauteria, 2015, with Emma Leigh Waldron.
Misogyny and the Female Body in Dungeons & Dragons, Analog Game Studies, 2014.
From Where Do Dungeons Come?, Analog Game Studies, 2014.
Reinventing Analog Game Studies, Analog Game Studies, 2014, with Evan Torner and Emma Leigh Waldron.
Extending Play to Critical Media Studies, Games & Culture, 2014, with Anne Gilbert.
Who Judges the Judges: Evaluating Competition as a Technique of Evaluation in Online Game Design Forums, in Online Evaluation of Creativity in the Arts, edited by Cecilia Suhr, 2014.
Visualizing Game Studies: Materiality and Sociality from Chessboard to Circuitboard, Journal of Games Criticism, 2014, with Aram Sinnreich.
Notes from the Wargaming Underground: Dungeons, Dragons, and the History of Games [A Review of Jon Peterson's Playing at the World], Game Studies, 2013.
Magic Modders: Alter-Art, Ambiguity, and the Ethics of Prosumption, Journal of Virtual Worlds Research, 2013. 
Video Gaming and the Sonic Feedback of Surveillance: Bastion and the Stanley Parable, Sounding Out!, 2013.
GLaDOS, The Voice of Postfeminist Control, Sounding Out!, 2011.
Magic: The Gathering in Material and Virtual Space: An Ethnographic Approach Toward Understanding Players who Dislike Online Play, The Proceedings of the Meaningful Play Conference, 2010.